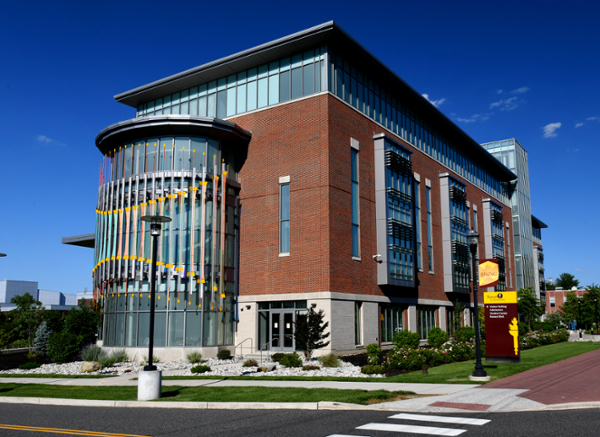 AACSB Recognizes Rohrer College of Business Program as an "Inspiring Innovation" | rowan today
International accrediting body AACSB today named Rowan University's Rohrer College of Business to a highly exclusive group: the flagship Innovations That Inspire program.
In naming RCB one of 24 schools worldwide to participate in the program, AACSB underscored the college's commitment to diversity, equity, inclusion and belonging, in particular its Think Like an Entrepreneur summer academy.
The eight-day non-residential program is open to all high schoolers and aspiring seniors, regardless of major or university, and has been particularly strong in supporting underrepresented students.
In fact, said RCB Dean Dr. Sue Lehrman, diversity, equity, inclusion and belonging have become hallmarks of the annual program.
"We aim to be a leader in supporting first-generation and underrepresented students as they learn to become the innovators of tomorrow," Lehrman said.
The free summer entrepreneurship program awards three college credits to high school juniors and seniors who complete it.
"Our students develop the creativity, initiative and perseverance that characterizes the entrepreneurial spirit," said Lehrman. "Thanks to the support of the TD Charitable Foundation, this summer we will be donating our 1,000and hour of free college credit to deserving high school students.
Now in its seventh year, AACSB's Innovations That Inspire initiative has highlighted the efforts of nearly 200 business schools that exemplify forward-thinking approaches to education, research, engagement community or awareness, entrepreneurship and leadership.
The Rowan program, which will be offered this summer for the sixth consecutive year, runs Monday-Thursday, June 20-23, and Monday-Thursday, June 27-30, from 9 a.m. to 2:30 p.m. each day. Places are limited and rising high school juniors and seniors must apply before midnight May 28.
Dr Eric Liguori, founding director of the new School of Innovation and Entrepreneurship at RCB, said that entrepreneurship students develop skills that enable them to start and run a business but, even if ownership of a business is not their goal, it helps them to think creatively and assertively to succeed in any field.
"The Think Like an Entrepreneur Academy is one of the many ways we at the College build pathways and facilitate access to high quality education," he said. "It's a key part of our Journey to entrepreneurship initiative, an effort designed to make Rowan's award-winning entrepreneurial resources available to our K-12 and community college partners.
"Progress toward more welcoming and inclusive spaces requires action, and Rowan University is showing leadership in this important effort," Beck-Dudley said. "Through collaborations – between business schools, companies and communities – our goal is to create a strong global society and equip leaders for positive impact."
About AACSB International
Founded in 1916, AACSB International (AACSB) is the world's largest business education alliance, connecting educators, learners and businesses to create the next generation of great leaders. With a presence in more than 100 countries and territories, AACSB drives engagement, accelerates innovation and amplifies impact in business education. Find out how AACSB is transforming business education for a better society at aacsb.edu.