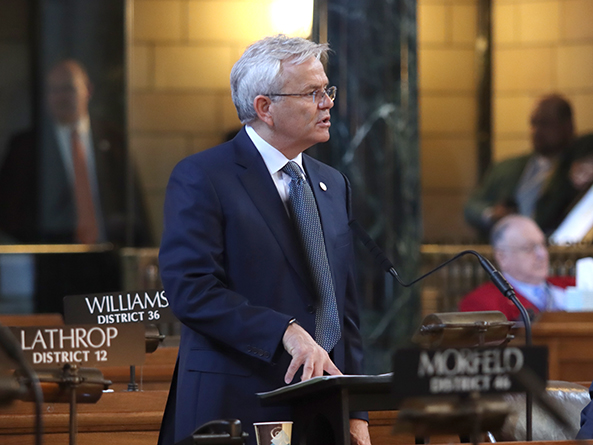 Proposal to Add a District Judge in Douglas County Amended, Advanced – Unicameral Update
A bill that would add a district judge to the state's fourth judicial district was amended to become an omnibus judicial measure and advanced from the general record on April 8.
LB922introduced by Omaha Sen. Steve Lathrop, would increase the number of judges in Douglas County's Fourth District from 17 to 18.
Lathrop said the state Judicial Resources Commission has determined that the current caseload in Douglas County warrants the addition of a judge. It would also allow judges to spend more time in problem-solving courts, he said, which is done on a voluntary basis.
"As policymakers, we have a responsibility to take care of the nonpolitical branch of government and that means making sure those people have enough resources," Lathrop said.
A Judicial Committee amendment added provisions from five other bills to the proposal.
LB870, introduced by Lincoln Sen. Matt Hansen, would amend the State's Self-Insured Compensation Fund and State's Self-Insured Liability Fund to allow payment of attorney's fees by authorizing the payment of costs associated with legal counsel from agency or outside legal counsel. working capital.
LB903, introduced by Senator Eliot Bostar of Lincoln, would create a new type of second-degree trespass that criminalizes flying a drone over another individual's property with the intent to observe the person without consent in a place of solitude or isolation.
Senator John Cavanugh of Omaha proposed and later withdrew an amendment to remove these provisions, saying the language was unnecessary and would only make the current law less clear. He said he would work with Hansen regarding his concerns before the next round of debate.
"I think it's important that we don't add criminal conduct when we don't need it," Cavanugh said.
Also included in the committee amendment was LB990, sponsored by Blair Sen. Ben Hansen, who would create the offense of criminal impersonation by stolen bravery.
Under these provisions, a person who claims to be an active member or veteran of the U.S. military, including the Armed Forces Reserves and National Guard, with intent to deceive or harm another – or who fraudulently presents as the recipient of a military honor or award – would be guilty of criminal impersonation by stolen bravery. Violations would be a Class I misdemeanor.
The provisions of LB1059, introduced by Norfolk Senator Michael Flood, would add the Judicial Resources Commission to the list of entities excluded from the definition of public bodies under the Open Meetings Act. The provisions would also remove the commission from the list of public bodies that can, with certain limitations, hold virtual meetings.
Finally, provisions of LB1171, sponsored by Senator Rita Sanders of Bellevue, would establish the clerk of the district court as jury commissioner in all counties.
The committee's amendment was adopted by 31 votes to 0.
Bennington Sen. Wendy DeBoer moved an amendment, passed 33-0, to add provisions to her LB830. She said the amendment is clean-up language to address medical cash support for children. Currently, state law sets the maximum level of responsible party support at 3% of gross income. The amendment would instead tie the maximum amount to child support guidelines set by the state Supreme Court.
DeBoer said the change would allow for future periodic review and adjustment of the amount without legislative action.
Senator Matt Hansen moved an amendment to include his LB444, which was introduced last session. The provisions would align the "right time" of the jail with the "right time" of the county jail.
Currently, when inmates begin serving time in state prison, they are eligible to earn good day time credit toward their sentence for following the rules and not engaging in prohibited behaviors. Inmates serving time in a county jail can also earn this good time, but only after the first 14 days of their sentence.
Omaha Sen. John Cavanaugh supported the amendment, calling it a "smart, reasonable, very small" step that would impact a small number of days but a large number of people. County jails are currently full of individuals with no inducement to good behavior under the good times theory, he said.
Senator Julie Slama of Sterling opposed the amendment, saying the 15-day waiting period is "absolutely reasonable".
Hansen withdrew his amendment in order to allow the underlying bill to move forward, noting the limited time remaining in the legislative session.
Lawmakers then voted 33-0 to advance LB922 to select the roster.